So, a few months ago (actually, more like several months), I ordered an Erin Condren planner. I had seen so many bloggers talking about how amazing these planners were and my Moleskine notebook I'd turned into a planner for 2012 was just about done so I thought maybe this new thing would work for me.
I did a review but, shortly after the review, I noticed that I was using my planner less and less. The reasons I was using it less were:
It was almost too pretty. As weird as that sounds, I hated writing in it because I was messing it up and it seriously bugged me.
I really missed the big block of open space I had in my week view for my Moleskine planner, under the daily columns.
I wasn't really happy with the division of the days in the Erin Condren planner. I don't organize my day by morning, afternoon and evening when I'm planning things. I know some people just re-name those segments into things like "day," "To Do's," etc… but I didn't want to have to rename 365 columns.
There weren't enough lined notebook pages, and I hated that the add-on notebooks I got were unlined pages. I'm left handed and write with a slant so I need lines!!
So now I have a really pretty unused Erin Condren planner sitting on my desk. Oh well.
I decided to just transform another Moleskine since I was really happy with my 2012 planner. For some unknown reason, though, the local bookstore near me stopped selling large grid notebooks like I'd previously used and none of the office supplies stores sold them either. I had to order one online, but that turned out okay because I was able to get a white one.
I love the color white. (Yeah, yeah….white is technically not a color. Whatever.)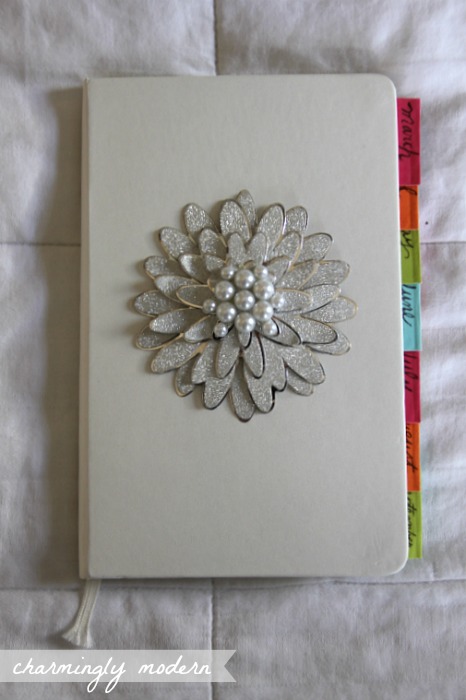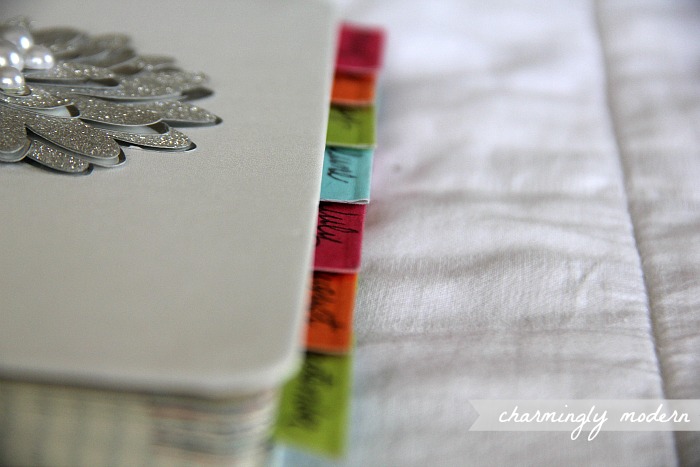 I know this sounds silly, but the flower sticker on the cover of the notebook? I've been saving it for years. I didn't know what I was saving it for. But then I got this notebook and it seemed absolutely perfect. So I put a flower on it (not as good as "put a bird on it," but you know).
Have you seen all the Smash Journal stuff lately? It's been around for a little while, but it seems like it's picking up steam the last few months. I thought I'd take the idea of the smash journal and apply it to my planner. I love collage art and have always wanted an art journal but since I don't keep a paper journal anymore I thought this would be a great in-between.
Ezra and I visited Joann Fabrics and they had quite a few Smash stuff on sale. We got the fabric tabs I used to divide the months, a roll of washi tape (I'm late to the washi tape parade, but man is this stuff fun!) and a roll of decorative clear tape. I also grabbed a small deck of 4 x 4 square scrapbook paper in different patterns.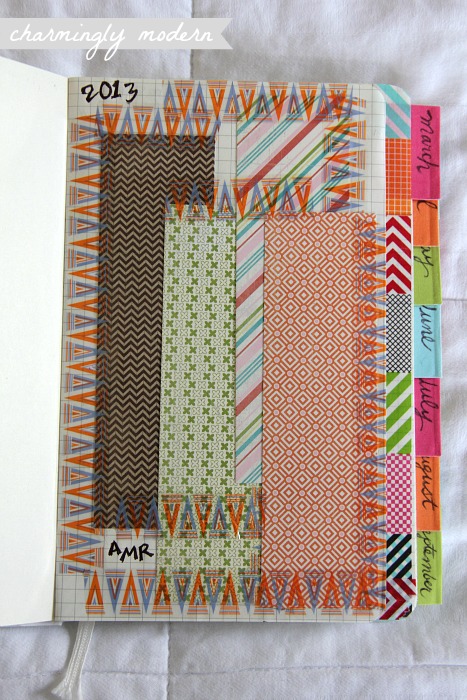 Here's the cover page. I picked a few of my favorite paper patterns from the scrapbook deck and taped them down with the decorative clear tape. That tape is pretty cool, actually. It's just as removable as washi tape so there's no pressure when placing things.
You can only see the tabs of March – September, but the planner does go all the way through to December.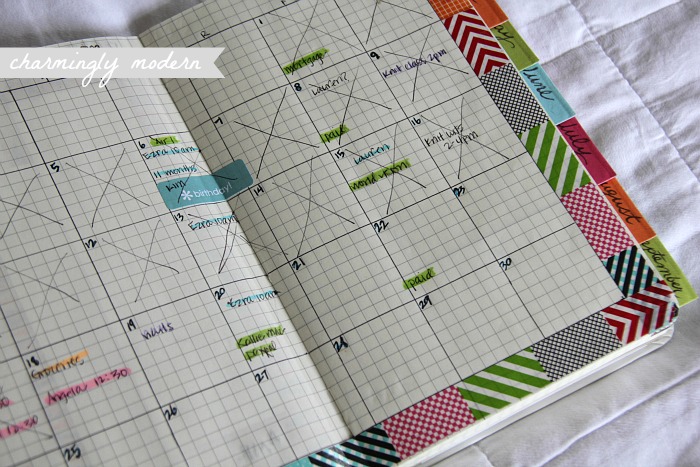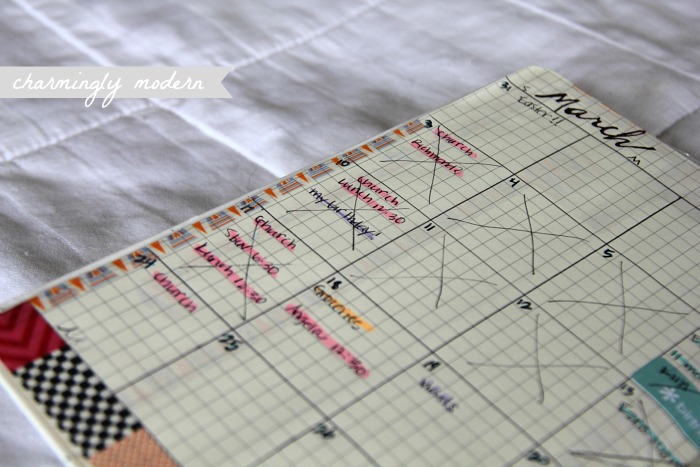 I did everything the same as last time – 7 x 7 squares (7 columns, 7 rows) with 3 rows at the top and at the bottom. This time, I added washi tape on the side, to keep the monthly tabs in place. Only in March I added a strip of washi tape at the bottom because I forgot to leave the 3 row space and it was bugging me.
I have quite a few of the Erin Condren labels left that came with that planner; that's what the birthday sticker is on the 6th.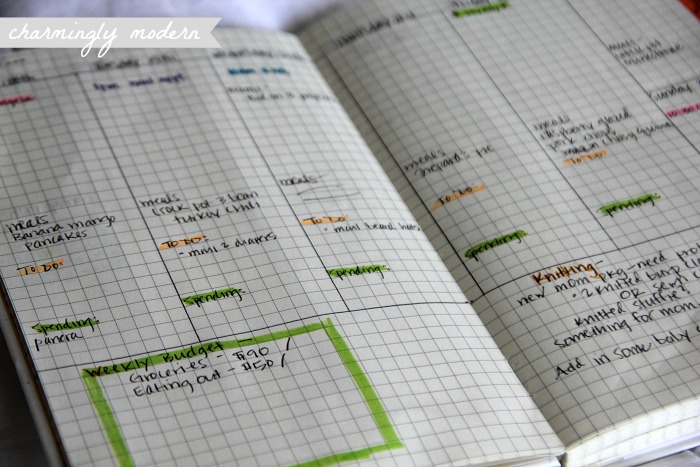 I didn't change anything with the weekly view, either. I am using the section below the daily columns for weekly budget tracking and for goals with my Etsy shop. I'm also tracking daily spending, any errands or To Do lists I have and dinner plans in each daily column.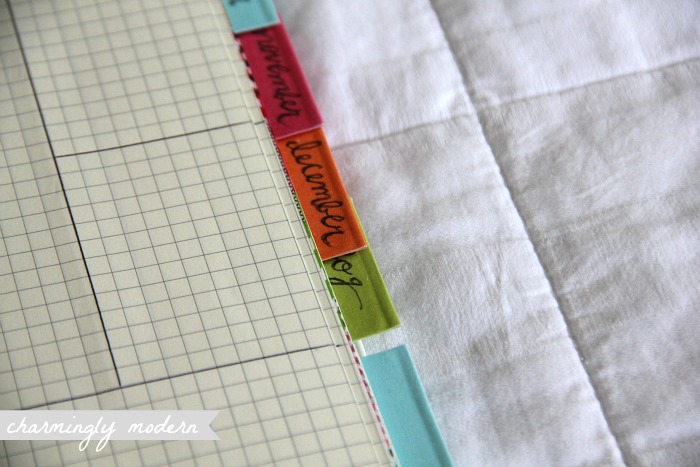 The tabs I used kind of feel like a fabric. They were square, so I folded them over and wrote each month on a different tab. The blank tab is a notes section but I'm not completely committed to calling it notes so…hence it being blank.
I did change the blog planning pages. I decided to use one side as a monthly calender to plan out posts and the facing page is divided into two columns – one for blog To Do's and the other for inspiration (post ideas, picture ideas, etc…).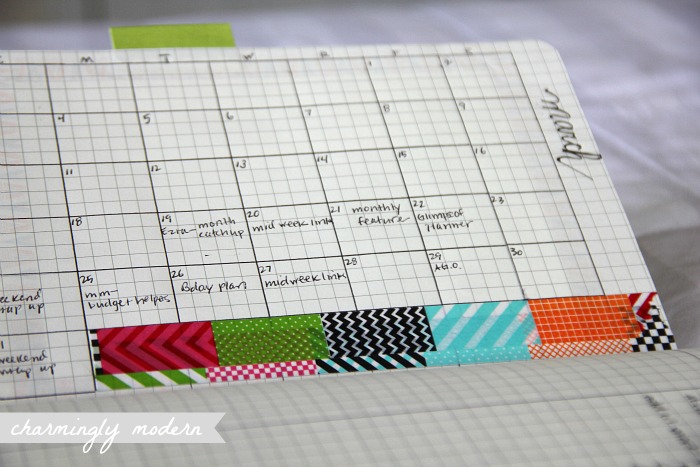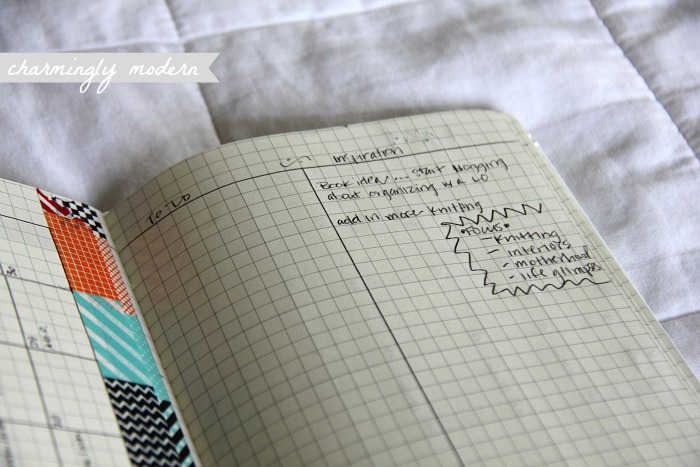 The last section, as I mentioned, is for notes and lists and whatever else. I haven't been doing a lot in that section but there are a good amount of pages leftover that it should last me for the whole year. I think I'll probably journal in that section, too.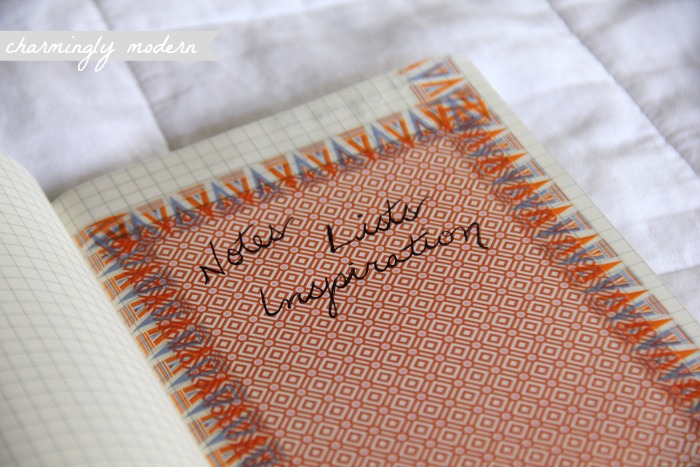 And that's that!
If you're interested, the supplies I used were:
Multi-colored Washi Tape by K&Company
Fabric Smash Tabs by K&Company
Smash Clear Triangle Tape by K&Company
You can check out the entire Smash line of products here.
Other planners I've made/used –