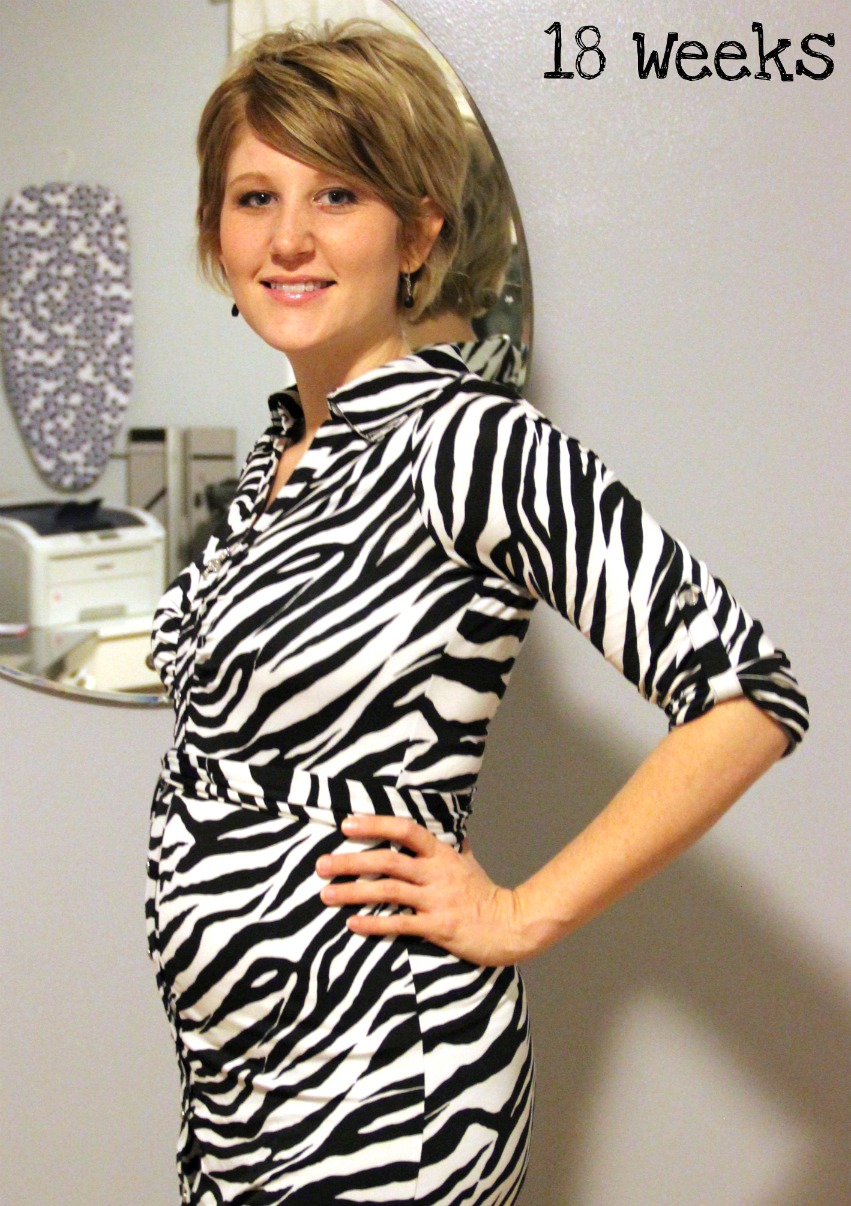 Bump Progress – Week 18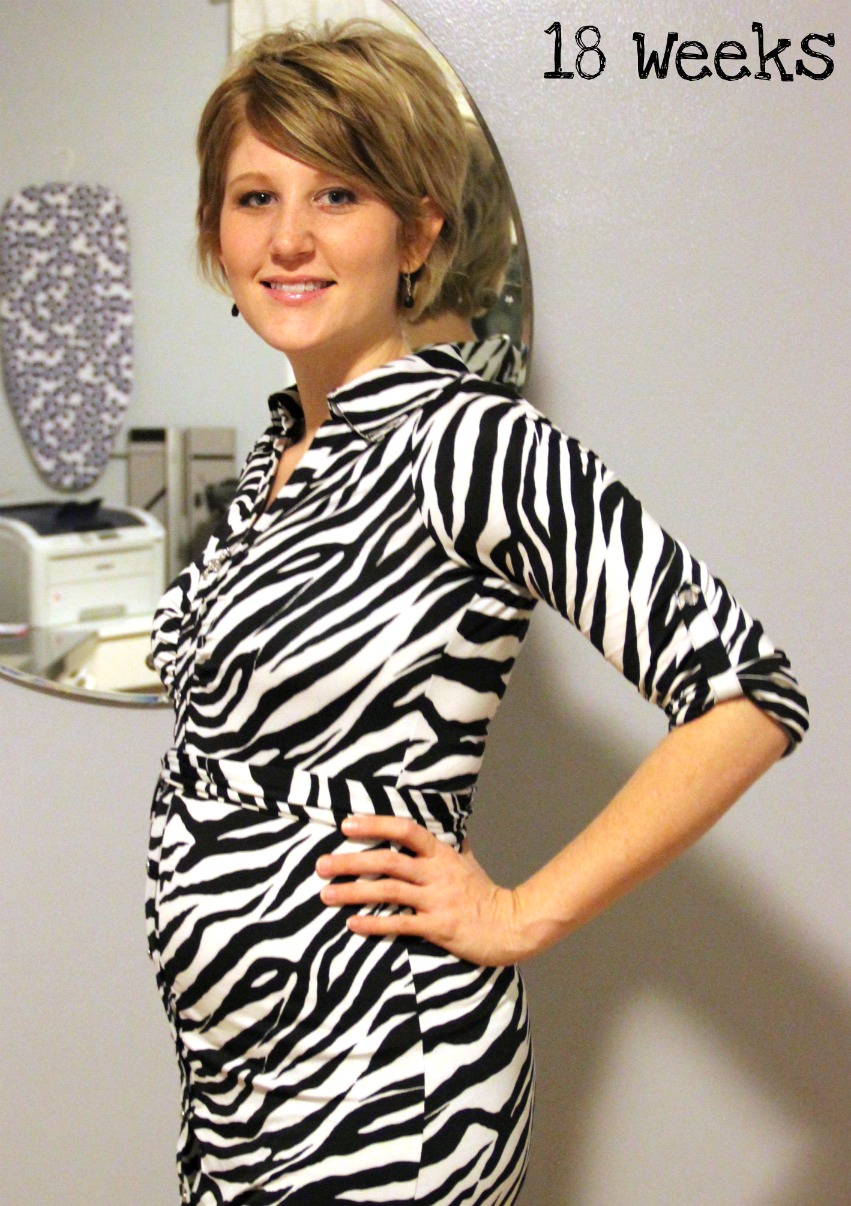 November 13th, 2011-November 19th, 2011
How big is baby? Baby is the size of a sweet potato – quite an improvement over the onion from last week! Baby is 5.6″ and 6.7oz. Slowly but surely, baby, slowly but surely.
How I'm feeling? Pregnant. I finally feel pregnant. I finally feel like there is an actual, real baby in my belly, growing…moving…and that in a matter of months, that baby will be in my arms.
And it's all because we had our ultrasound yesterday!!!!!!!
It was such an incredible experience to see our baby in real-time. It was unbelievable the level of detail the ultrasound captured. We could see everything – arms, legs, belly, head, tiny fingers, tiny toes, spinal cord, heart (and the 4 chambers!), brain (!!! woah!!!), skeleton, stomach, etc… It was just amazing. Babies are truly miracles. Pregnancy is, hands down, the most incredible experience I have ever had in my life.
We were so blessed to have family with us in the room. Unfortunately, my father- and mother-in-law were unable to come, but my mom and dad, sister and sister-in-law were there as was Alex. I am so thankful they could be there with us to see the baby and find out the gender. The technician was so nice, too, and was great at explaining what we were looking at.
I will say, the second she put the ultrasound thing (and that is the medical term for it, haha) on my belly and the baby popped up on the screen, I instantly knew the gender. And it wasn't hard to guess, anyway. That baby was flaunting it for us all to see – no shame!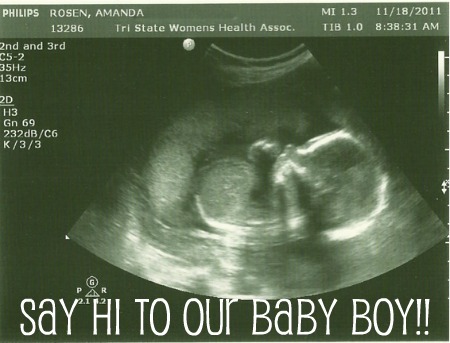 I'm not putting the shot up where he was flaunting it all but, suffice it to say, he made it pretty obvious.
He! He! He! It is so exciting to be able to say he!!
And let me just gush here for a moment over his picture – look at those tiny hands and his perfect little nose! Everything about him looks perfect. He even has a tiny little belly! He is out of control on the cuteness level. I seriously cannot wait to meet him.
Any cravings or weird dreams? Yes and yes and they haven't changed from last week. Still zombies and still carbs, plus Thai and Chinese food.
Any other details? We are really looking forward to Thanksgiving because we will be traveling to Alex's mom and dad's so we will be able to show them the ultrasound photos. I so wish they could have been there with us, but we are likely going to have a 3D/4D ultrasound some time later in my pregnancy so hopefully they can attend that.
Apart from that, we have begun trying to wade through the craziness of birth plans and birth options. It is really overwhelming. Until this week, I really didn't give it much thought but now that I have seen his little face and he is so much more real, I want to do the right thing by him and make sure we have the best birth experience possible. I know everything can't be controlled down to the letter, but it certainly doesn't hurt to make a few decisions and just try to make it happen the way we want it to.
I picked up a few books at Joseph-Beth Booksellers (local bookstore in the area) that relate to the direction we want to go in: Ina May's Guide to Childbirth by Ina May Gaskin and Your Best Birth by Ricki Lake and Abby Epstein. You can probably guess by these books that we are leaning toward an unmedicated, natural childbirth. So far, I have been wading through the birth stories in Ina May's book and have gotten through the first chapter in the Ricki Lake book. I'll have to update next week on my progress, but for now I'm really enjoying both books. Although some of the birth stories in Ina May's Guide to Childbirth are a little…different. But to each her own!