When we went under contract, I went into crazy magazine clipping mode. This has been a hobby of mine for years, actually. I have a few sketchbooks full of magazine clippings, plus quite a few folders and even a box. Not to mention the magazines I have yet to flip through… and most are interior/decor magazines. I think in another life I was a decorator? Yes, that must be it.
Anyway, when you go under contract with Drees Homes, the contract stipulates you have fifteen days to get your selections in. That's not a lot of time, but the reason they do that is because they found the building process started taking an extremely long time as buyers drug their feet and wouldn't make selections in a "timely" manner. The six to seven month turnaround time that's quoted to the buyer includes all of the prep work leading up to the big build – Drees needs time to order your selections, line up the subcontractors who will be doing the work, order building materials etc…and none of that can move forward until they know what you are doing with your house.
So, a mere nine days after going under contract to build, we found ourselves at the Drees Homes Design Center making the selections for our home.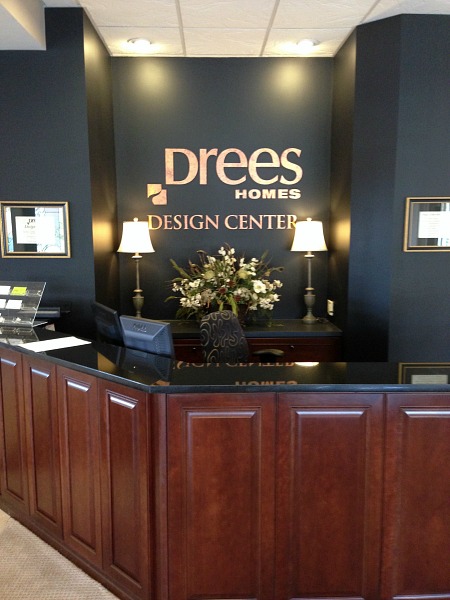 There was definitely a degree of pressure present that day. I mean, we were making decisions for the look of our home that we would have to live with forever. Namely, the exterior selections and interior things like the flooring and handrails. And, arguably, most everything you put on your house can technically be changed at a later date. But we really didn't want to go into this thinking "we can change that later if we don't like it!" We wanted to be 100% sure we loved what we were going with.
That meant that the night we went under contract, I whipped out my magazine clipping collection and got to collaging. I also might have gone a little crazy on Pinterest.
Whether you're building, renovating or just playing around with ideas, it definitely helps to either make a physical inspiration board/book or put together something on pinterest. Why? It may seem like a waste of time, but actually getting all of the things you like out where you can plainly see them helps you identify common elements that you like. I noticed I was pinning a lot of rooms with dark floors, and that I had cut out a lot of kitchens with light countertops. We ended up incorporating those elements into our selections, because we had an idea of what we liked.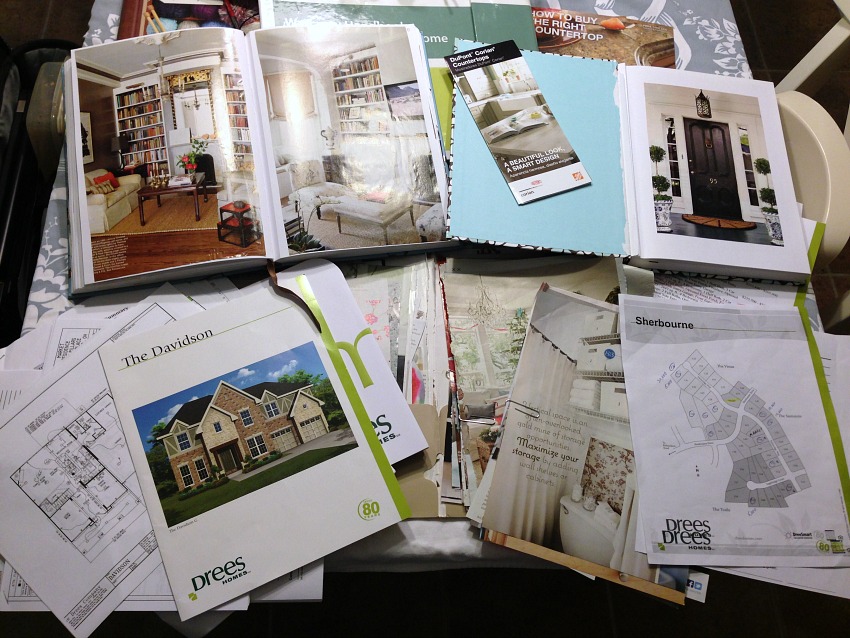 Obviously, that's a totally styled shot just for the blog but you get the idea of what I had going on in those days leading up to our Design Center appointment. And I brought my two inspiration notebooks and my iPad with me to the Design Center so we could stay focused and not go crazy with the add-ons.
Ah, yes, the add-ons.
Just because you've gone under contracted and agreed to a certain price doesn't mean that price won't change. You can change things as often as you'd like – add on or take away. After a certain point, it's a $200 fee to change things, but until then you can do it as often as you need to. And adding on things makes the cost of your house go up.
At the Design Center, we only added $620 to the cost of our home. That came in the form up an upgraded faucet in the kitchen (from chrome to brushed nickel) and hardwood floor instead of carpet in the front two rooms of the main floor. The hardwood upgrade was actually several thousand, but we had a cabinet allowance of $1,600 built into our contract in the event we wanted to upgrade our cabinets. We didn't upgrade them, so that total amount covered the bulk of the hardwood upgrade. And that meant that the entire first floor of our home would be hardwood, so it was totally worth it in our opinion.
Via Drees Homes
I don't know why, but I didn't take any actual photos of the Design Center itself. I took a ton of our selections, though. I grabbed the image above from Drees' website; it gives you a good idea of how the Design Center works, though.
You begin by making your exterior selections – brick, siding (if applicable), shingles, trim color (for gutters, gables, porch, etc…), shutters, exterior doors and lights. Regardless of what room you're working on, the selection options are setup like the brick is above – so you can get a good idea of your options before making your final choice. You can also pick up whatever option you're thinking about to put it against whatever might be coordinating with it – like this: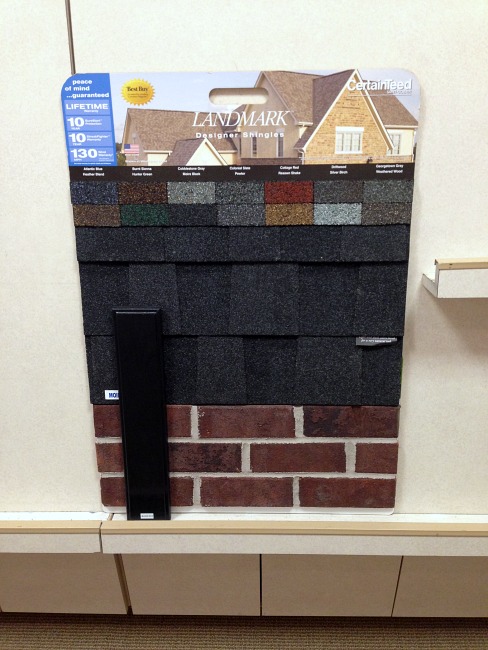 Those are our actual selections for the exterior (minus the trim) – black shingles, deep red brick and a black front door and shutters. Somewhere on the selection, it lists the manufacturer, model number and color name. At the end of the appointment (which lasted about two and a half hours for us), you get a print out of all of your selections with that information on it. So, of course, that night I went online and google image searched everything and pinned it on Pinterest. I'll share all of that information on mood boards so you can see what we went with.
Anyway, from the outside you then move onto flooring, paint and trim colors (your house is painted all one color), cabinetry and hardware, countertops, finishes (like tile surround for your fireplace if you're getting one, tile for the bathrooms), etc. You kind of go room by room, but some things – like the paint color – are universal so you just make those choices and that's that.
The nice thing is that each buyer is assigned a design consultant who walks you through the process and guides your decisions so you don't do something crazy like pair a black roof with orange shutters and suddenly you have a Who Dey house but your neighbors are appalled. We didn't go that crazy. But it would have been fun to see our consultant's face if I had suggested that. This whole process is really overwhelming – as I mentioned, these are choices you have to make before you even get the chance to actually live in your house, or before you really know how you'll decorate it. It helps to have people along for the ride, too. If you find yourself renovating or building or whatever and you have the opportunity to have an unbiased person not involved in the process tag along with you, totally do that. Trust me, it helps to have others around to bounce ideas off of and get feedback on what you're going with.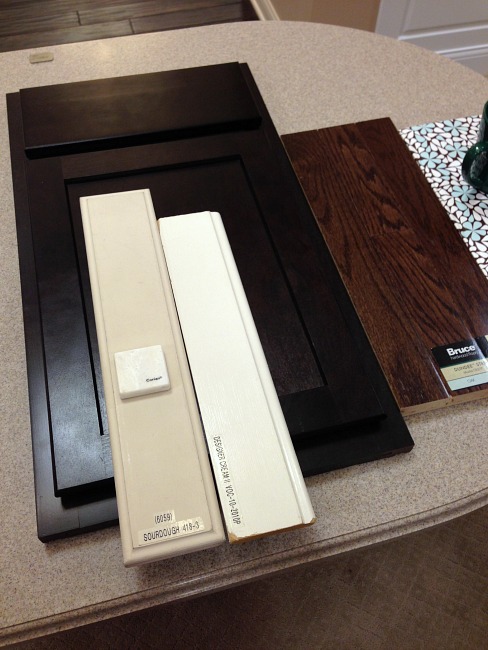 There are a few more glimpses into some of our selections – flooring, wall and trim colors and cabinetry.
From our initial selections, we did end up changing a couple things. Drees budgets in two appointments for buyers to visit the Design Center and we took advantage of the second visit to re-confirm everything we had chosen. The main reason, though, that we had to go back was a countertop issue.
We had given ourselves a countertop allowance of $4,300. It was actually a granite selection, but when we went under contract and made all of our upgrade choices we mentioned we wanted Corian instead of granite and our sales manager said to go ahead and choose the granite but change it out at the Design Center. She mentioned the price should be comparable and so we went ahead and budgeted in for that switch. But, when we went to the Design Center, our consultant let us know that Corian was actually more costly than granite and would likely take us well over that $4,300.We went ahead and chose a Corian color – Witch Hazel – knowing it may not work out and we might have to either go with granite or just remove the allowance altogether and do formica countertops (which is the base countertop).
A week or so after our appointment, our consultant got back with us that Corian was really over budget. I was a little disappointed, but it probably turned out to be a blessing in disguise. After we chose Witch Hazel I had this feeling it would come off as too yellow or beige. I had originally wanted Rain Cloud, but when I saw it in person I wasn't as big of a fan. I think things probably worked out the way they should with the granite we ended up choosing but, I will say, I don't 100% love our granite choice either. I feel like it's too similar in color to the granite we had at our old house (which was in the bathroom); it's almost identical, except it's a shade or two lighter. I do remember our consultant saying we would go pick the specific slab out before countertops are installed, though, so maybe I'll love it more once I see it bigger than a 10×10 square.
And that concludes our Design Center adventure! Thanks for reading 🙂