Looking Back, Looking Ahead
I'm trying out a new feature – which I'm sure you can guess the title of based on the heading above. It's a roundup of the previous week, a glimpse into what's happening in the week ahead plus a few little scraps from around the web that I've gathered up. I've tried doing something like this before and it fizzled out, so don't hold me to this one. We'll just see how it goes for now.
It was a short week this past week because of the holiday, but it was nice. Alex didn't work Monday and neither did I (I went in on Wednesday this week) and we took that day to break in our zoo passes. My parents and sister went with us and I think everyone had a lot of fun. We went in the morning, before it got too hot, which makes the zoo more fun anyway because more animals are out in their habitats since the air is cooler.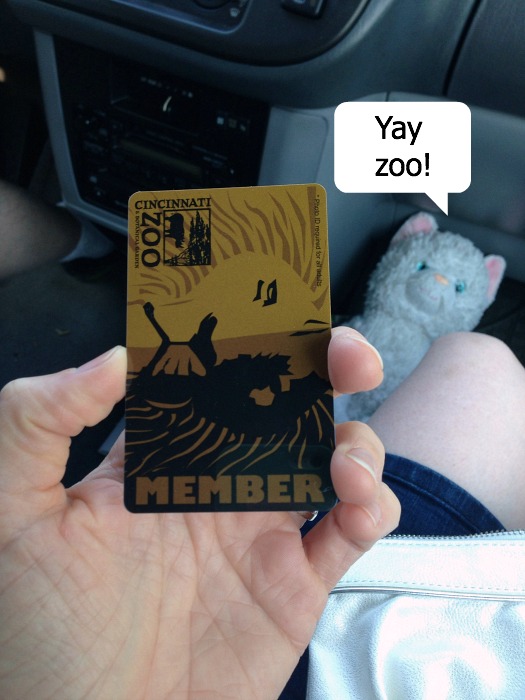 Ezra's cat, Meow, came along… as he does for everything.
Something I've realized is how lucky we are to have a zoo so close to where we live. Zoos have always kind of made me sad, but not this one. I can't quite put my finger on why that is except maybe because it just seems so clean and forward thinking. And by forward thinking I mean they have all of these sustainability and environmentally friendly ways of doing things, and the animals' habitats are kept up so nicely plus they are always doing work to help endangered species, raise awareness about animals and connect the public wherever possible (Cheetah encounters, art by gorillas [no joke! Wish I could afford it. It's actually pretty cool], etc…). We ate lunch there and I was kind of blown away at how sustainable even the plates, plasticware and food prep was.
There's a train that slinks around the zoo so, of course, Conductor Ezra needed to hop on for a ride. It was the little cherry on top of a fun trip. I snapped this pic of him pointing at the train arriving back at the station. He was such a patient little guy, waiting in line. We had to wait through one cycle before it was our turn and I was really surprised at how well he waited.
Drees came by with grass seed about two weeks ago. I'm genuinely concerned what our water bill is going to be like whenever it arrives, with the amount of sprinkler usage going on around here. It finally started to pay off, though, when I saw some sprouts popping up through the hay on Tuesday. I've never been so excited to see grass. Of course, just yesterday, both of our sprinklers literally blew their tops off and are now out of commission so I'm heading back to Home Depot to get two new sprinklers. As a side note, I can't believe how expensive garden hoses are. I don't know why I had it in my head that a hose is only a few bucks, but that is totally not true. We had to buy two hoses because the one we had was only like 6′ long or something silly like that. I got 100′ hoses which was maybe a little overkill but I'm new at this grass care stuff!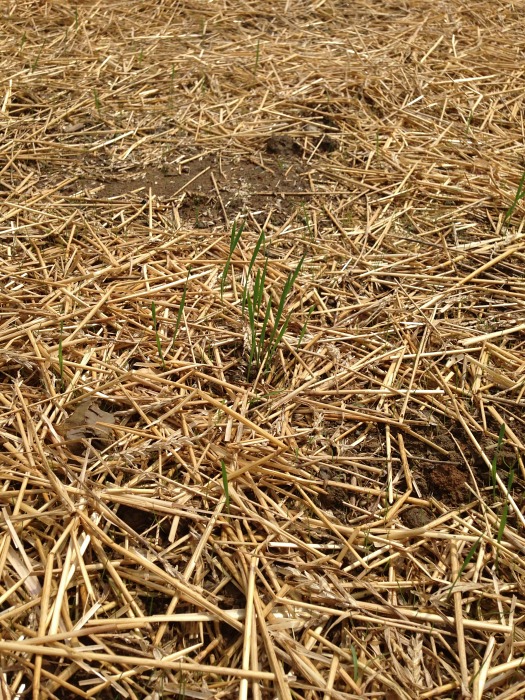 On Friday, it was my mom's birthday and she just wanted to grab some pizza and head to the park to hang out and celebrate so that's exactly what we did. I brought my big camera along because I don't use it nearly enough. This is my favorite shot, because it pretty much sums it up-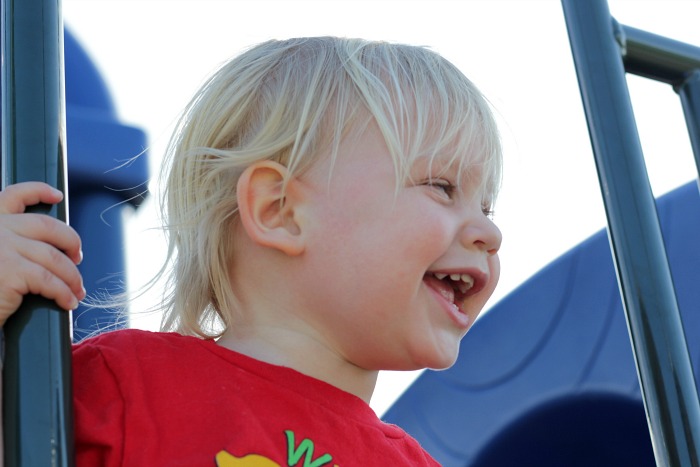 And if you're wondering, no Ezra has not had a haircut yet. Every little hair on his head he has had since he was born. His scraggly hair (which is actually a mullet right now) is a point of contention around here. I don't want to get it cut, but Alex does. Honestly, I think Ezra does too since he's constantly pushing his hair out of his eyes. So, it's probably two against one at this point unfortunately.
Yesterday we had the honor of attending a wedding. It was Ezra's first wedding he's ever attended and he did a pretty good job of looking adorable while simultaneously refusing to eat anything except some strawberries, a potato chip and two cupcakes. He has priorities.
Seriously, though, his little suit is out of control cute. We got it at Babies R Us. Kerchief in the pocket??? I die.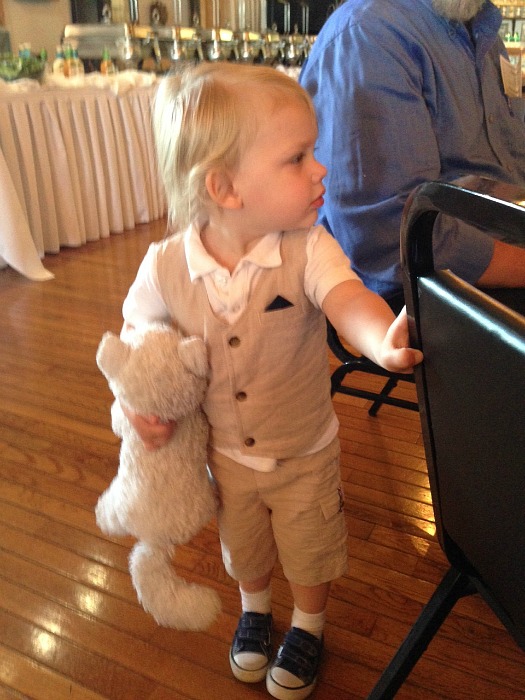 We actually missed the ceremony because we couldn't find the place where it was. I got lost in my own hometown. Not a moment I'm proud of, but it happens. It didn't help that I didn't bring the invitation with me because I was thinking "I know where EVERYTHING is in these parts!!!" Also, I couldn't remember where I put the invitation so there's that.
That brings us to today, Sunday. We've gotten out of our routine of going to church Sunday mornings for a bunch of reasons that don't really matter, so next Sunday we'll be getting back into the swing of it. Today was pretty lazy. We broke out the sidewalk chalk and experimented with form and color –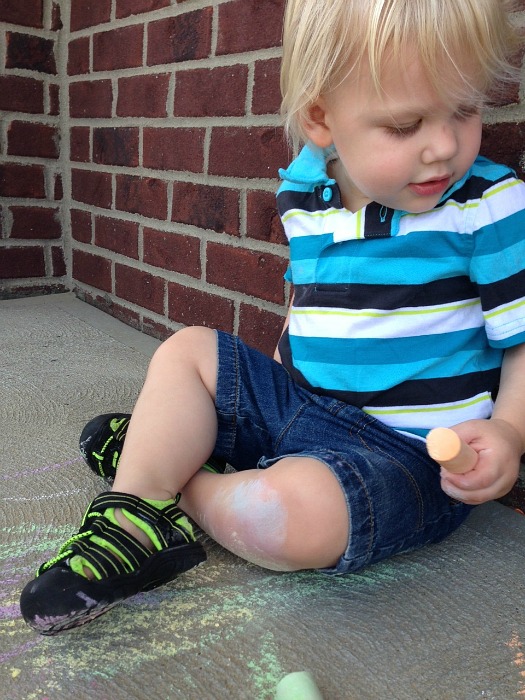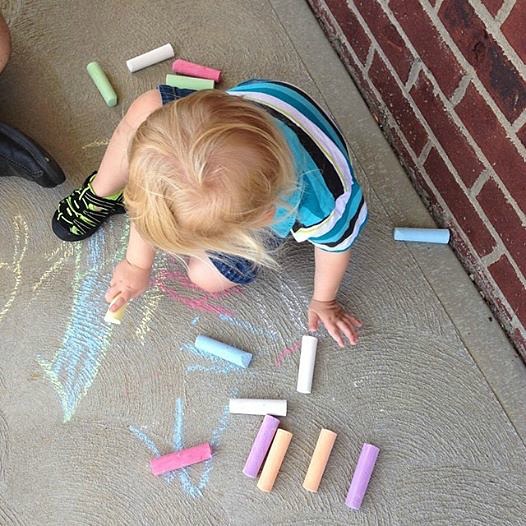 During nap time, I ran to Starbucks to work on my Powersheets for the month of June, as well as pull together a budget for the month. It's really hard to budget right now since all of our expenses are unpredictable, being in a new house. Although some of them I do have a handle on – like groceries.
Lastly, we're about a year'ish (or more) behind on pop culture and since we just got back satellite (read: HBO, HGTV and Disney Jr), we were DVR'ing a bunch of movies we had missed in theatre. We watched Warm Bodies and Silver Linings Playbook this weekend and I really liked them both. I was surprised about Warm Bodies. It turned out to be a romance – who knew?? (Well, the people who saw it knew. And the people who wrote it and acted in it. So basically everyone but us knew.)
This week ahead is pretty exciting. I'm launching new listings (hopefully by Tuesday at the latest) and jumping in with this new Charmingly Modern shop plan. We've got relatives from Germany visiting and I really hope to finish up the dress I'm knitting so I can wear it to the big family dinner. Wish me luck!
And now some links for you –
He said he was leaving. She ignored him. – by Laura Munson (originally published in The New York Times, August 2009)
 "I don't love you anymore. I'm not sure I ever did."

His words came at me like a speeding fist, like a sucker punch, yet somehow in that moment I was able to duck. And once I recovered and composed myself, I managed to say, "I don't buy it." Because I didn't.
Making mom friends by Scary Mommy
The dream of many of us moms on the prowl for other moms is that the friendship we forge will lead to the melding of two families – our husbands become best friends, our kids become like cousins, our families go on ski and beach vacations together, and our futures are united. Sure, it makes hanging out with your girlfriend and gossiping over wine a lot easier when the husbands and kids are entertained. But, for me, some of my fondest childhood memories are from vacations and holidays spent with my parents' best friends and their kids.
There's nothing brave about Zooey Deschanel's #nomakeup selfie by Molly McHugh, on The Daily Dot
Does this photo make me feel better? Is it a relief that sometimes, just like me, actresses are sleepy and have very slightly tousled hair in the morning? No, and not because I wake up looking many, many times more unmade than that, but because for some reason I'm supposed to think that subtly bragging about my unmadeness will make me brave and admirable.
33 activities under $10 that will keep your kids busy all summer – by Mike Spohr, Buzzfeed (just click the link to see the list!!)
Hope last week was wonderful for you, that you enjoyed today and that you have something exciting planned for tomorrow 🙂
Next time a woman asks you a question tapping into your mom expertise, she might really want to know the answer to the question. But, it's also the tell-tale sign that you're being picked up. "Nice stroller," is the mom equivalent of "nice ass." – See more at: http://www.scarymommy.com/making-mom-friends-2/#sthash.1XL98V9t.1ybY2tFs.dpuf
Next time a woman asks you a question tapping into your mom expertise, she might really want to know the answer to the question. But, it's also the tell-tale sign that you're being picked up. "Nice stroller," is the mom equivalent of "nice ass." – See more at: http://www.scarymommy.com/making-mom-friends-2/#sthash.1XL98V9t.1ybY2tFs.dpuf
Next time a woman asks you a question tapping into your mom expertise, she might really want to know the answer to the question. But, it's also the tell-tale sign that you're being picked up. "Nice stroller," is the mom equivalent of "nice ass." – See more at: http://www.scarymommy.com/making-mom-friends-2/#sthash.1XL98V9t.1ybY2tFs.dpuf
Next time a woman asks you a question tapping into your mom expertise, she might really want to know the answer to the question. But, it's also the tell-tale sign that you're being picked up. "Nice stroller," is the mom equivalent of "nice ass." – See more at: http://www.scarymommy.com/making-mom-friends-2/#sthash.1XL98V9t.1ybY2tFs.dpuf
Next time a woman asks you a question tapping into your mom expertise, she might really want to know the answer to the question. But, it's also the tell-tale sign that you're being picked up. "Nice stroller," is the mom equivalent of "nice ass." – See more at: http://www.scarymommy.com/making-mom-friends-2/#sthash.1XL98V9t.1ybY2tFs.dpuf"
Next time a woman asks you a question tapping into your mom expertise, she might really want to know the answer to the question. But, it's also the tell-tale sign that you're being picked up. "Nice stroller," is the mom equivalent of "nice ass." – See more at: http://www.scarymommy.com/making-mom-friends-2/#sthash.1XL98V9t.1ybY2tFs.dpuf