I don't know how a whole two months went by without me updating about our grocery spending, but they did. Whew!
I left off in February, and at that point we had added $429.14 to our annual grocery spending. My monthly spending goal for groceries is $400 so February had us over budget by $29.14, but that isn't too terrible.
Here's how March and April broke down (which, technically, April isn't over yet but I don't anticipate grocery shopping again until next week on May 1st. If that changes, though, I'll update this post!)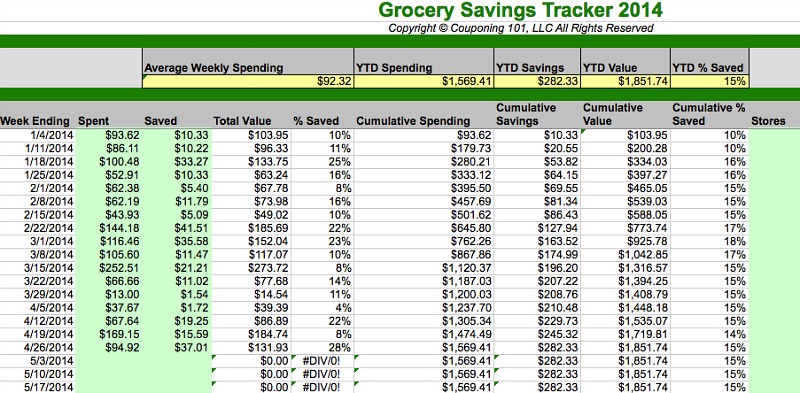 March – $437.77
April – $369.38
In March, we went over budget by $37.77 but if you look at the week ending in March 15th, you'll see I spent $252.51. Remember that time I bought a ton of meat? That's what's going on there. I did my regular grocery shopping, plus had a separate trip for the ingredients for the freezer meals.
But you can see in April how that paid off! My weekly spending really went down and we are ending the month under budget by $30.62. Woo hoo!
I have about 10 meals left from the Wildtree stuff. You can tell we started tapering off using them the week of the 19th. I did grocery shopping today (which is the last entry you see) and I have a couple Wildtree meals on the menu so that bill includes two dinners. I think I need to do another freezer meal prep day soon so I can keep seeing the savings.
I also really, really want to increase our savings. That was my goal going into March – to increase our percentage saved/bill.
In hindsight, that was kind of silly because the % depends on how much you spend and my expenditure varies from trip to trip so the % is not based on a static number. Plus, some weeks I need less and other weeks I need more. Plus plus, sometimes Kroger has great sales…sometimes you hit a week that is a total dud.
Regardless, I'm disappointed that I haven't done better with savings. Every week I feel like I'm going to do so well but then I get to the checkout and I'm like "that's it?!?!!" Although I do have to say I was really happy with how things turned out today. Kroger has their Buy 4 Save $4 deal going on and I did that three times and combined coupons with the items I was combining.
This pains me to say, but I may have to try out other grocery stores to see if I can find better deals. I know at Target you can combine Target coupons, manufacturer coupons, Cartwheel savings and Target Redcard 5% discount. That's something I could try and see what happens, especially since both Targets in my area are now "super" Targets with a pretty decent grocery section (although they lack decent produce).
So, I guess my goal for May will be to see greater savings, some how, some way. Wish me luck!