While Ezra was with my mom yesterday, I finally got the chance to get my office/craft room under control. Mostly this meant organizing my yarn.
I never thought I would be that knitter. The one with enough yarn to possibly open her own – albeit small – yarn shop.
But it happened. It's a bit of an addiction, what can I say.
Over the weekend, Alex and I visited Home Depot to see what we could find in terms of an organizational solution. I thought about going to my most favorite store ever – IKEA – but didn't feel like making the drive with a 10 month old in tow. We ended up finding a Martha Stewart 6-cubby shelf that is pretty similar to the IKEA Expedit, and cheaper to boot, so that was a score. Plus, this particular shelf is stackable so, in the future, I can add on more if necessary.
It took me almost 2 hours, but I got everything organized and under control. I decided to remove the vintage writing desk I'd had in the closet and move the shelf in there. I really love that desk and, until I have the space for it again, it's just hanging out in the garage.
Anyway, here is my new shelf: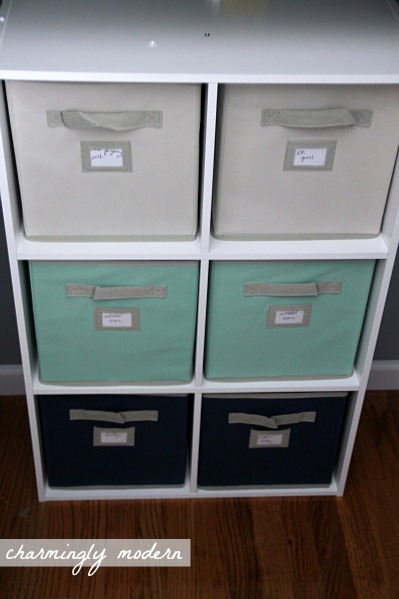 I was going to group by color, but instead I decided to group by weight. So on the top shelf, I have lace/fingering/sock in one cubby and DK/sport in the other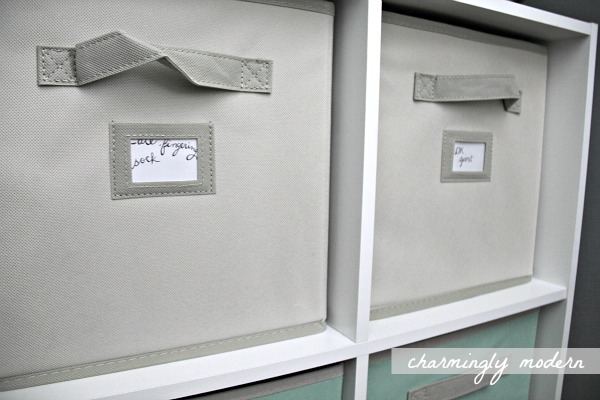 And yeah, you'll notice for the label on the lace/fingering/sock cubby…I didn't realize the insert was mostly covered by the pocket it fits into. So "lace" kinda got cut off. Oh well.
Anyway, the second shelf is all worsted and aran. This was by far my largest collection. Worsted weight is definitely my favorite!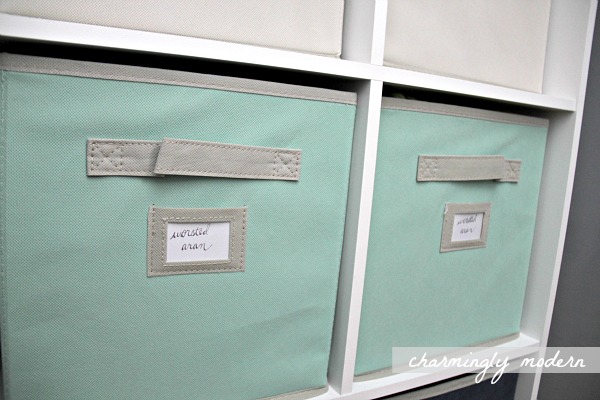 And the very bottom shelves are bulky and super bulky. I don't much super bulky at all, but what I do have I've really enjoyed knitting with so I think I probably need to get more. Right? I thought so.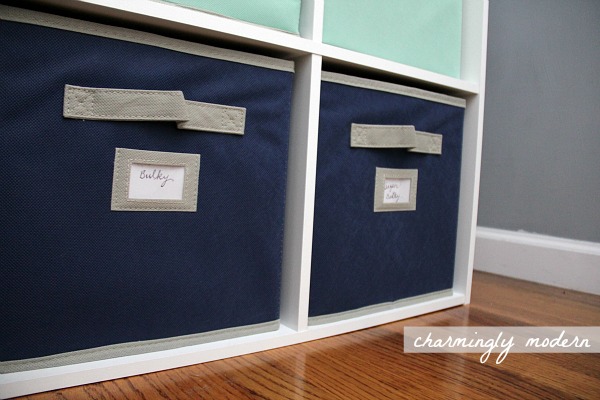 I picked these colors for the baskets because it just so happened there were colors to perfectly coordinate with the IKEA curtains (Janette, in green) I've already got in the room. Super bonus!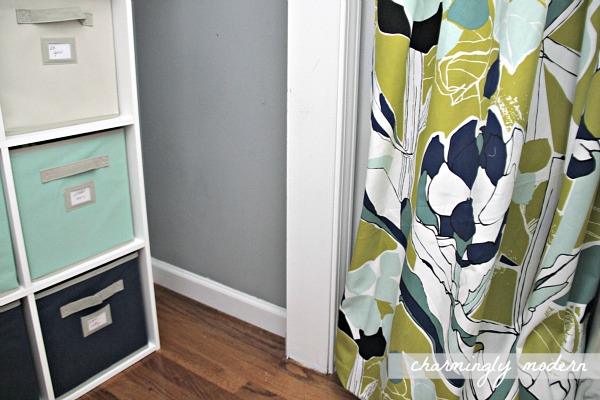 Since I needed 6 baskets, the total for this whole upgrade came to $81.86 plus tax. It still ended up being cheaper than if I would have gone with the 8 cubby IKEA Expedit version + storage cubes (not to mention factoring in gas money for travel to and from IKEA) so I'm pretty happy with that.
And you can't beat having an organized office once again, and yarn all nicely stored away where I can easily get to it and see what I have. While I was organizing, I also snapped pictures of each skein to update my Ravelry stash. If you're on Ravelry, find me on there and you can check out my stash – my username is moxiemanda.
If you're a knitter (or crocheter, or fiber artist, etc…) how do you store your materials?