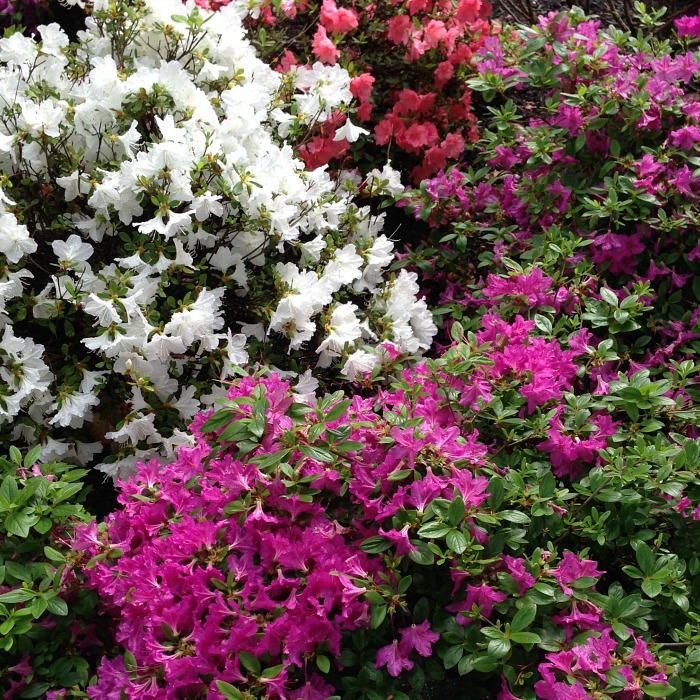 (These flowers have nothing to do with budgets but they make me feel better when I look at them. Aren't azaleas gorgeous?!)
So… we started out the year with pretty much no restaurant budget. And last week I said I would share just how much damage we've done so far this year with eating out. Here's how it breaks down January-May
January – $318.66
February – $324.96
March – $201.83
April – $159.11
May – $236.31
That is a grand total of $1,240.87 in just five short months. Kinda makes me sick. That averages out to about $248/month for the last five months, which I guess isn't horrible but, still, it just seems like way too much.
To compare, we've spent $2,013.50 so far on groceries. At least that number is higher. And that averages out to about $402/month for the last five months.
You can tell in March and April we started to go into spend-less-money mode as the closing drew near for the house. Then, last month, things ballooned right back up as we moved and spent a lot of time unpacking/settling and not a lot of time eating at home or meal planning.
So, going forward, what's the plan? Glad you asked.
For the remaining months of 2014, we're going to go crazy and try to gradually decrease our eating out expenditures from $225.00 starting in June to $100.00 by December. That's just a decrease of $125.00 over the course of six months (well, technically 7 since this month has only just begun) so that should give us time to work up to eating at home more often and being smarter about how we meal plan and spend our money.
I honestly don't know if $100.00/month is feasible for us, but it sure as heck doesn't hurt to try for it. The reason I'm not totally positive we can make it work is because on the weekends we regularly blow all plans to eat at home in favor of going to restaurants, and the same thing happens for at least 2 dinners each week. The fix is easy – just have more appealing food available at home, that's quick and easy to prepare. It's just a matter of buckling down and doing it.
Anyway, that means that June's eating out budget is $225.00. Actually, we're down to $217.69 for June since we've already spent some money at UDF on ice cream. Which was a total necessity. Obviously. I mean ice cream. Come on.
Just to keep things simple and clear, here are our budget breakdowns related to food, moving forward this month –
Eating out/restaurants – $225.00
Groceries – $400.00
Coffee – $50.00
Ah, yes, coffee.
My guilty pleasure. I can't help myself!! But I need to. So, to help myself out, I'm withdrawing $50.00 in cash at the start of each month and that's my coffee money for the next 30 days. When it's gone, it's gone and I'm just outta luck.
Are you doing any kind of budget crack down now that we're halfway through the year? Or are you just flabbergasted at how much we eat out? Let me know! And if you are working on a budget goal, please comment and we can cheer each other on.