Last week, I talked about our grocery spending and how I had been slowly but surely reducing our weekly bill down to $80.00. And last night, I achieved victory!!
We spent $78.69! And saved $16.45 (17% of our bill). That was for 38 items.
The savings wasn't as great as it's been the last couple weeks, but the main reason for that is our Kroger stopped running their Mega Sales Event. Normally when that happens, I end up using little to no coupons so I'm pretty proud of myself that I stilled used quite a few – $7.00 of our savings total was through manufacturer and catalina coupons.
So what's next? Well, I don't realistically see us being able to reduce much beyond what I did yesterday. I mean, never say never but … unless we cut back a ton I just don't see it happening. Or maybe I could become a Coupon Queen…but I don't see that happening, either. But in the spirit of fun and games, I'll set our new weekly goal at $77.00 and just see what happens next week. That's really only $1.69 that I have to shave off the bill, which probably boils down to swapping out name brand for Kroger brand or doubling up on coupons + store sale price. We'll see what happens.
To cut costs, this week I'm making homemade wheat bread in the bread machine, banana bread, whole grain blueberry muffins and pumpkin chocolate chip cake. I pulled the muffin and pumpkin recipes from magazine clippings so I scanned them in case anyone else would like to pin them or make them.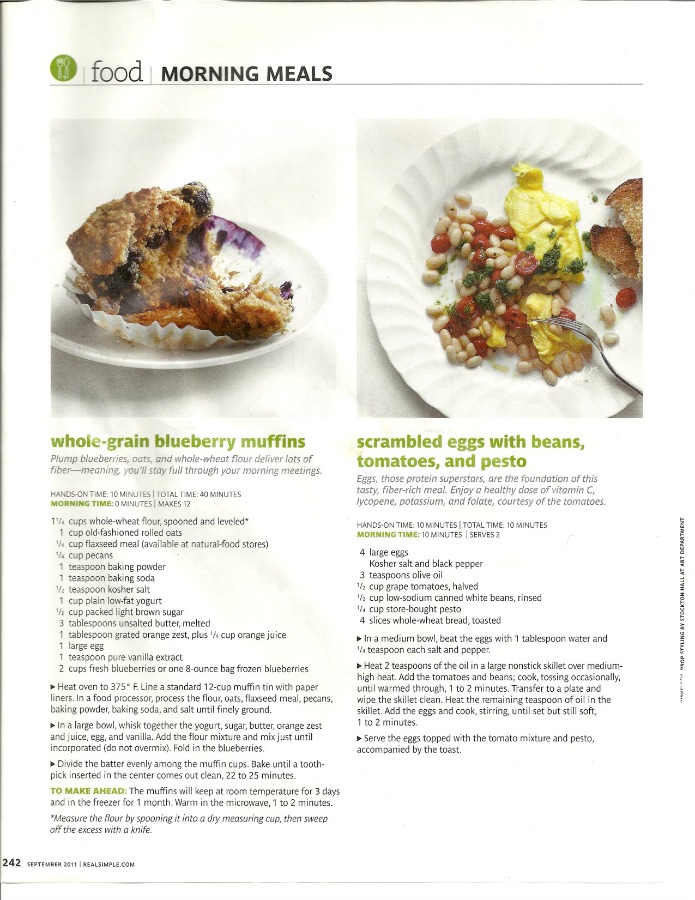 Via Real Simple, Sept 2011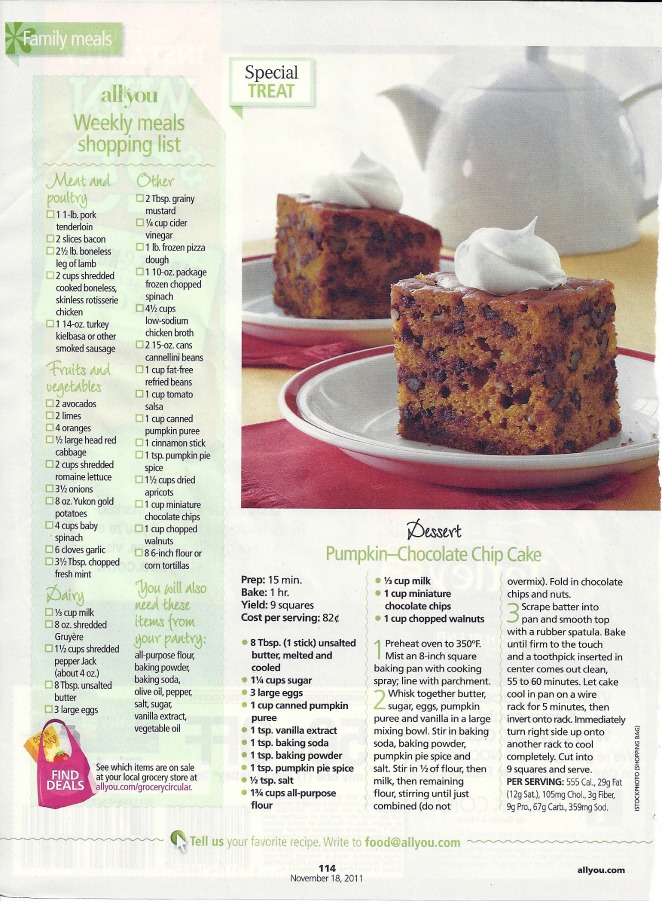 Via All You, November 2011
I still make freezer meals for Alex's breakfast, but for the last couple weeks he's been eating toaster strudels because I had a coupon for them. This week, I had a BOGO coupon for El Monterey Breakfast Burritos (it was a digital coupon you can load to your Kroger card) so I got him 2 of those – they were on sale $1.00 each so I got 2 for $1.00! To cover for the rest of this week and into next week, I'm making sausage and potato pockets, which is another scanned recipe.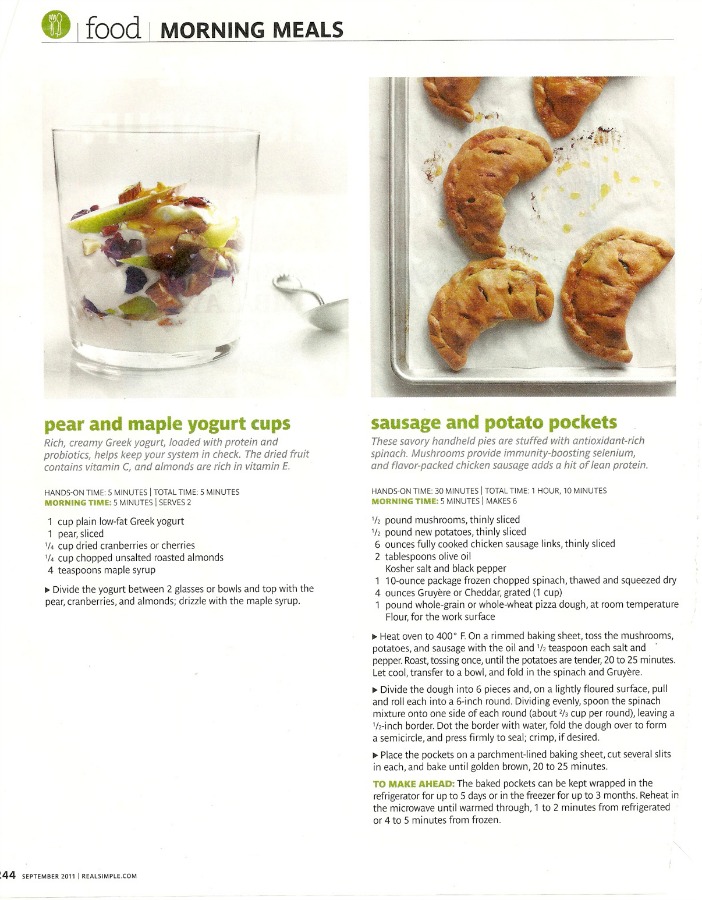 Via Real Simple, September 2011
Since Ezra eats table food regularly now, I've had to start planning meals for him as well. His breakfast will be one of the whole grain blueberry muffins and his lunches range from pb&j to mac n cheese to dinner leftovers. He always has steamed vegetables as a side, plus something like string cheese or pita crackers. And he follows up all that with a fruit, which he would just eat if he had things his way. I buy frozen vegetables by the bag to steam for him since he eats about a cup at a time and we noticed we were throwing away a ton of fresh veggies.
This is what we have going on for dinner this week –
Wednesday, July 10th – Eating with my family
Thursday, July 11th – Tortellini with Ragu pasta sauce ($8.37)
Friday, July 12th – Going to a ballgame, so we will probably eat there.
Saturday, July 13th – Rotisserie chicken, mashed cauliflower and cheesy rice ($9.99)
Sunday, July 14th – Lemony tuna and olive oil pasta ($4.16)
Monday, July 15th – Sweet potato waffles, scrambled eggs and homefries ($6.60)
This is just for 6 nights of dinner, but I do have one extra meal – Rosemary chicken with zucchini ($6.68). Next week, I want to get back to my regular Monday evening grocery shopping schedule.
In parenthesis, I've calculated the estimated cost of the meal. I can't really figure out things like the cost her tablespoon of olive oil… well, I could, but I don't want to, haha. So this cost includes things I bought at this trip or had on hand. Yes, I am the crazy person that writes down the cost of things we regularly buy so I can keep track if the price goes up or down (and really, that isn't a lot of work. Just keep your receipts and enter stuff into an excel sheet. I keep track of only things we buy all the time, like organic whole milk or baking supplies).
Anyway, here are scans of the remaining recipes. Feel free to pin them. You can also click each image to make it larger (a plus-sign magnifying glass cursor will appear so you can zoom in on the image). Let me know in the comments if you decide to try any of these recipes!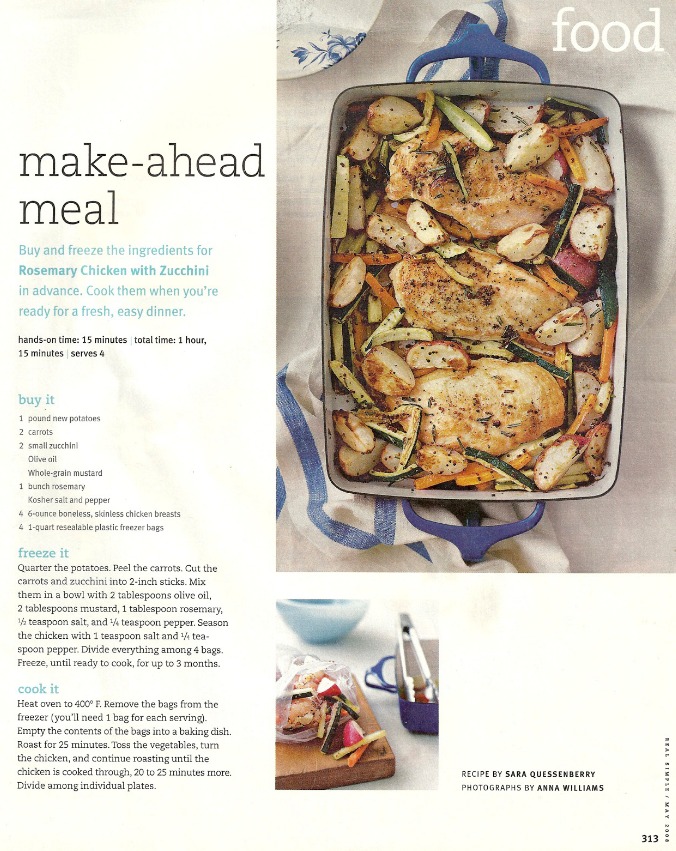 Via Real Simple, May 2008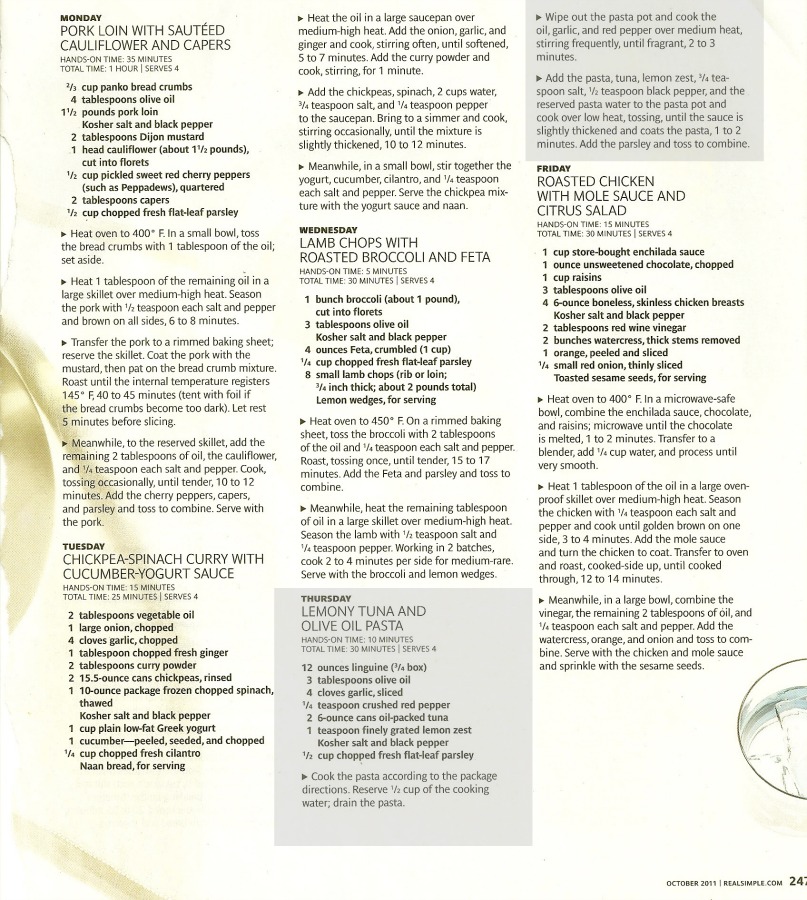 Via Real Simple, October 2011 (gee, I really like Real Simple apparently)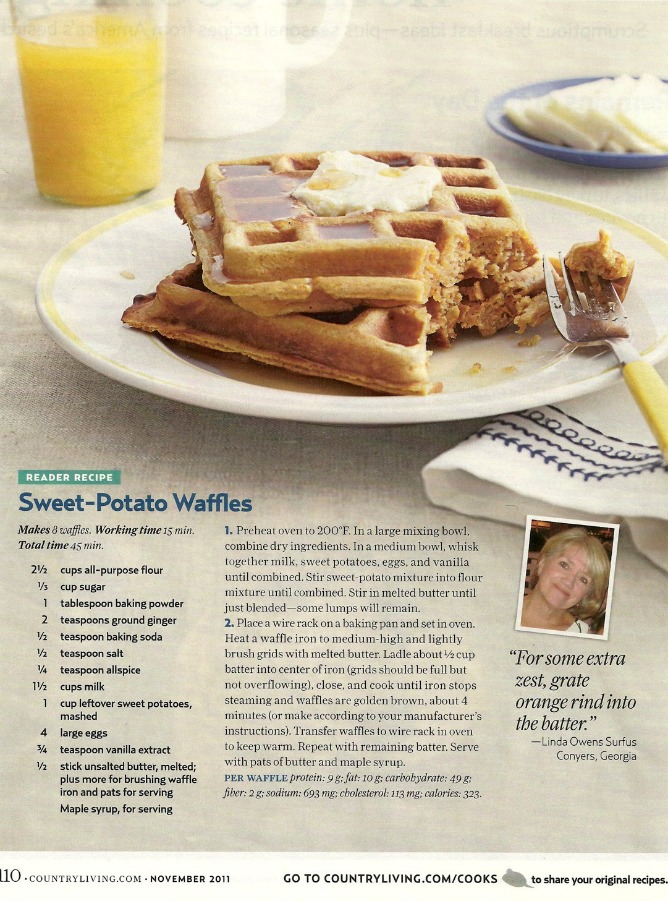 Via Country Living, November 2011