This Friday's 'a glimpse of…' is a day late but that's okay! I'm sharing with you my day-early Mother's Day present. Alex took me – and Ezra too! – to Home Depot today to pick out some flowers for the flower pots on our front porch.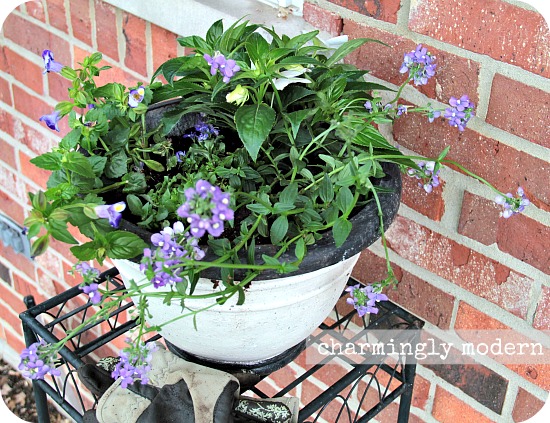 Just ignore the grody gardening gloves there.
Every May, I have always looked forward to flower shopping. For Mother's Day, year after year, my mom loved going to pick out flowers for the garden and having us all spend time together to plan them. Some years I was too cool for the tradition and acted like it was boring…but I always enjoyed it. And I especially enjoyed looking at the flowers all summer long.
Now that Alex and I have our own house, the past two Mays we have planted flowers in the pots on the front porch. I've already mentioned how we attempt to fill our flowers beds, but that usually backfires and most everything dies. This year, I'm not worried about the flower beds. I just wanted flowers on my porch.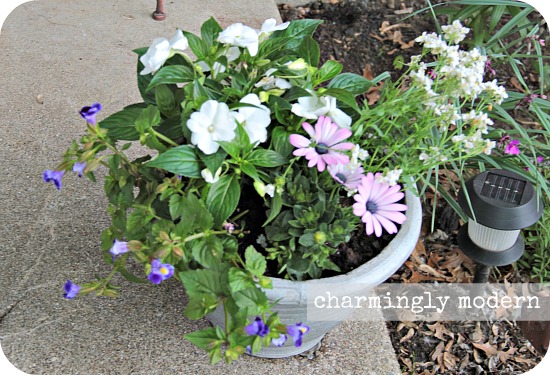 And now flowers on my porch I have. It only took about about 45 minutes to get it all together, but now we have something pretty to look at when we come home.
As a side note, we had a bag of organic potting soil in the garage from last Spring so that was what I used for planting. Let me tell ya, that soil was rank. Like, old rotten eggs kind of rank. Hopefully this doesn't translate to more dead flowers.
I should have kept the markers for these because I can't remember what they are called. The only thing I can say with certainty is the small white flowers on the right side of the pot in the picture above look like miniature snapdragons and smell like lilacs. They are my favorite.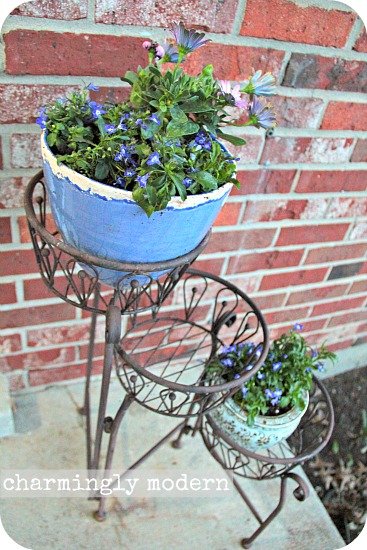 I actually am missing one of my flower pots from last Spring. No idea where it went. I'm guessing it got broken or something. So, I'll have to pick up another one at some point. In the meantime, there's a giant gaping hole where it should be 🙂
What are your plans for Spring planting?